Data-Driven Educators: Vicky Rankin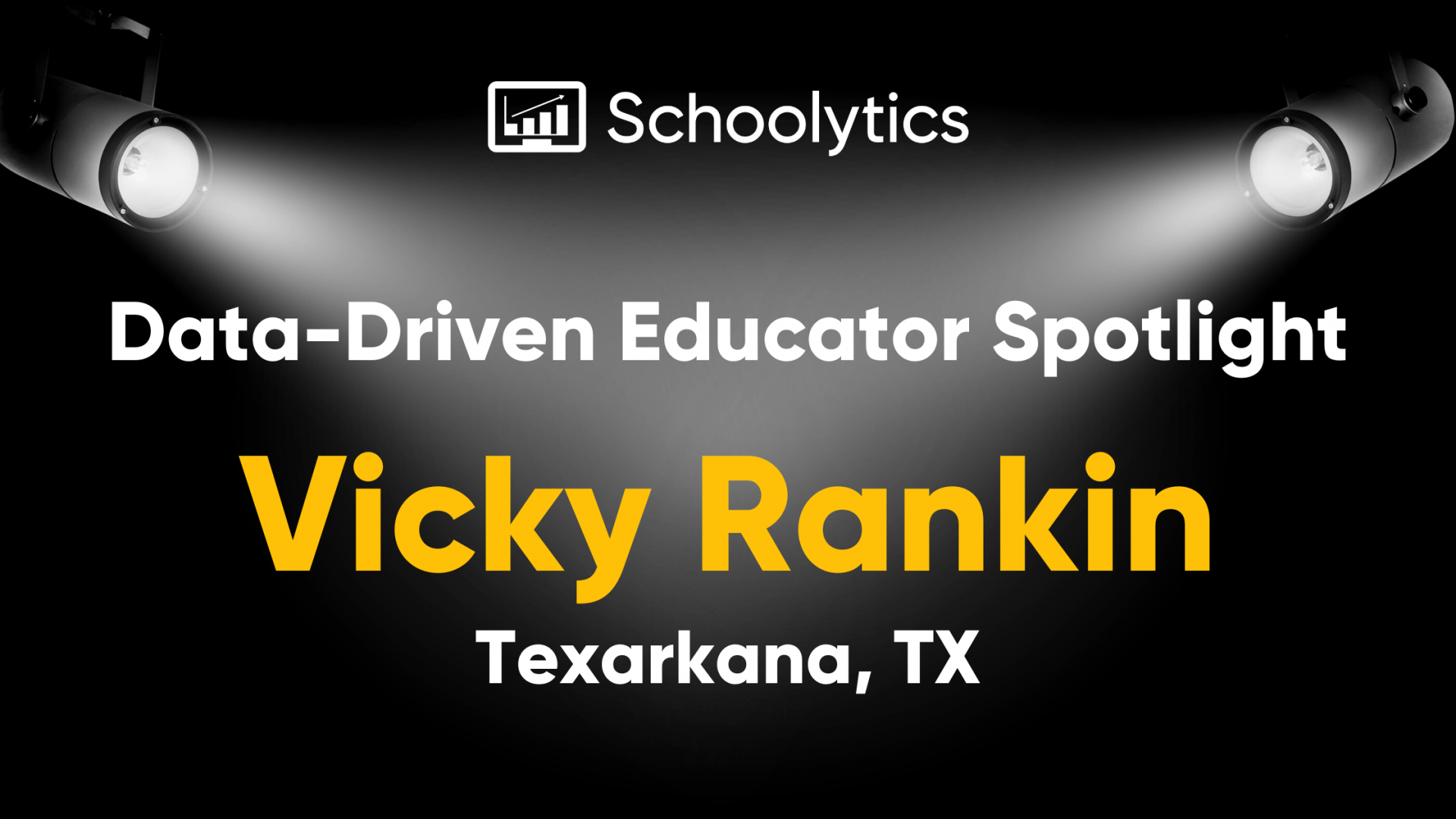 Welcome to our new Data-Driven Educator series!
For each Data-Driven Educator Spotlight we lift up a teacher that is using data in exciting ways with their students.
Do you know a Data-Driven Educator who is on the cutting edge of classroom data use? Send them our way by emailing marketing@schoolytics.com
---
Thank you for sharing your story with us Vicky! First things first: what do you teach and where?
Hello! I'm Vicky Rankin and I work in Texarkana Independent School District in Texas as a 7th grade science teacher. Texarkana is unique because it is a twin city located on the borders of Texas and Arkansas, and near Louisiana. The city's name is a blend of those three states—Texas, Arkansas, and Louisiana.
I have been working in the education field for a total of 9 years now, and I have also taught Cosmetology, Adult Education, and 6th Grade Science.
My current career highlight would be my work towards obtaining a National Board Certification in middle school science.
You haven't always been a classroom teacher though, right? What were you doing before you entered the classroom?
Before I entered the education field, I worked as an Environmental Scientist in the Gulf of Mexico. I had to return to my hometown when my mother became ill and needed assistance but I remained in this area after my mother passed because I have rekindled many relationships.
My career highlights in the science field include working for the National Oceanic and Atmospheric Administration (NOAA) Natural Resource Damage Assessment (NRDA) during the 2010 BP Oil Spill to collect data in the salt marshes. Also working in the Everglades for several years on the C44 Reservoir, and helping to establish new seagrass beds in the panhandle of Florida for the Department of Environmental Protection.
Wow, I bet your experience as a scientist makes you an excellent science teacher! I also imagine it makes you pretty proficient with data collection and analysis. What are some of the ways you use data in your class?
Our school district encourages the use of data collection and have been working tirelessly to help us understand how to use this data to tailor our lessons in an effort to close the achievement gap. Myself, I feel that I am proficient with the collection and use of data.
In my class, I approach data by:
measuring my students' growth when using various techniques so that I can determine which technique works best for them.
using data to determine which students have gaps in their education so that I can address these issues as soon as possible.
keeping track of each students' progress in each TEKS (the Texas Essential Knowledge and Skills, our state standards) so that we can improve on the areas that need the most attention by the end of the year.
teaching my students to collect their own data so that they can self assess their progress and find their weaknesses.
I'd been managing all of these myself before I discovered Schoolytics
So glad we've been able to help! How did you discover Schoolytics, and what was your first 'AHA' moment?
I discovered Schoolytics through Alice Keeler. I've been a fan of hers for a while now but have not been able to incorporate many of her "digital miracles" until our school acquired Chromebooks for all students and laptops for all teachers last January of 2022. In that short period of time I have had the opportunity to communicate more effectively with my students about their progress. I can see the use of Schoolytics freeing up a great deal of time for myself.
I've had many "aha" moments with Schoolytics but I'm looking forward to finally being able to use it for a full school year to help me locate students that need extra attention faster. The Schoolytics generated charts and graphs condense large amounts of information and make the information easier to understand at a glance.
The last few years have been pretty crazy, especially regarding the influx of new classroom technologies. How have your teaching challenges changed recently?
There are two sides to this coin. On the one hand the pandemic has contributed to the widening of students' learning gaps. In that respect some challenges are definitely worse.
On the other, the pandemic has propelled us forward by forcing students and teachers to use technology in a variety of ways. That has, I feel, made some challenges better—at least for those that have embraced the use of technology.
What advice do you have for other Data-Driven Educators that are new to using data tools like Schoolytics?
Understanding how to collect and use classroom data is paramount in our efforts to close our educational gap.
Absolutely! One last question: If you could wave a magic wand and change one thing about schools, what would it be?
I would like to reduce the teacher/student ratio.