Why districts choose Schoolytics
Finding a data partner can be difficult. There are so many questions to answer, and getting a good idea of just what a platform can truly offer is challenging. Demos can be insufficient in giving a full picture of a tool's strengths and weaknesses. Below, you can find more details on what makes Schoolytics unique, and what value-adds the platform provides compared to alternatives on the market.
How is Schoolytics different from other platforms?
Holistic Student Profiles
Drill down features allow you go from a bird's eye view of the whole district to an individual student profile. A breadth of data integrations allow users to see a comprehensive student profile with attendance, assessment scores, homework, grades, behavior, discipline, interventions, SEL, and more.
Customization & Self-Serve Reporting
Every single report in the Unified Data Platform can be customized to your district's specific needs and requirements. Our team partners with you to develop new reports and metrics, or you can use our tool to build your own reports.
Range of Student Data
Schoolytics pulls data from a wide range of sources: student information system (SIS), assessment platforms, learning management system (LMS), and spreadsheets. Evaluate student data by subgroups and find correlations between dimensions like absenteeism and standards mastery.
Affordability
With bundled pricing and unlimited access and seats, Schoolytics offers the most affordable data platform on the market. The subscription model includes services, which means there are no hidden fees and costs and no surprise bills.
Innovation
Schoolytics has a culture of innovation that means the platform and products are always improving. Customers are delighted by the steady pace of iteration with new features coming out regularly.
Stakeholder Access
Schoolytics has a special permissions layer so that district administrators (curriculum and instruction, assessment and evaluation, student services, and more), building leaders / principals, teachers, and even students and parents can engage. Schoolytics has unique experience creating dashboards for teachers.
Ease of Implementation & Use
Schoolytics dashboards are modern, user-friendly, and easy to use. Data connections are automated and designed to reduce and even eliminate manual data uploads. Implementations are smooth, short, and pain-free so that districts can realize the value of the platform as quickly as possible.
Support & Data Coaching
Our data team partners deeply with customers. From onboarding and training to professional development to data coaching, you will have a team of data scientists and engineers helping you every step of the way. This includes building predictive models and early warning systems.
What if my district has its own data system, or has started building one?
Some districts opt to build their own in-house data system. This approach can maintain autonomy and control but misses out on some key advantages to outsourcing some data engineering and analytics processes and functions. If you've already started down this pathway, take a moment to consider whether you should make a change, even if there's been a significant investment so far. It can be helpful to think of your past investment in your current strategy as a sunk cost. Here are some paint points that come up for districts that build their own system, and how Schoolytics can help solve each one.
As a web application, Schoolytics offers additional features such as drilldowns, the student profile, intervention logging, and email widgets -- all things that would be very difficult to build without a sizeable engineering team.
Managing permissions for all your stakeholders on your own is a significant challenge. In addition, affording enough "seat licenses" with BI tools can be prohibitively expensive if you want to share data widely. Schoolytics, in contrast, allows unlimited storage and users.
There is tremendous cost associated with staff turnover with any in-house dashboard, report, or data pipeline. This is not unique to school districts. Using a partner like Schoolytics insulates schools and districts from the issues of staff fluctuations.
The number of learning applications used by students and teachers with valuable data to extract is only going to grow. It does not make sense for every district to recreate the wheel to pull data from all of these applications; Schoolytics can do this more efficiently.
Without a robust system in place, district teams tend to rely on insecure ways to share and send data, such as spreadsheets. With more sophisticated data pipelines, Schoolytics has extensive protections and encryption in place.
Building and maintaining a data system can be resource-intensive, even for the most well-provisioned teams. The opportunity cost of the time and money going into such a system is important to consider: what else could you be doing with those resources?
Why choose Schoolytics over a BI tool?
Given the data warehouse offering, combined with a visualization tool, Schoolytics has some overlaps with BI tools like Tableau, Looker, or Domo. But there are a lot of reasons why these tools don't work well for K12 schools and districts.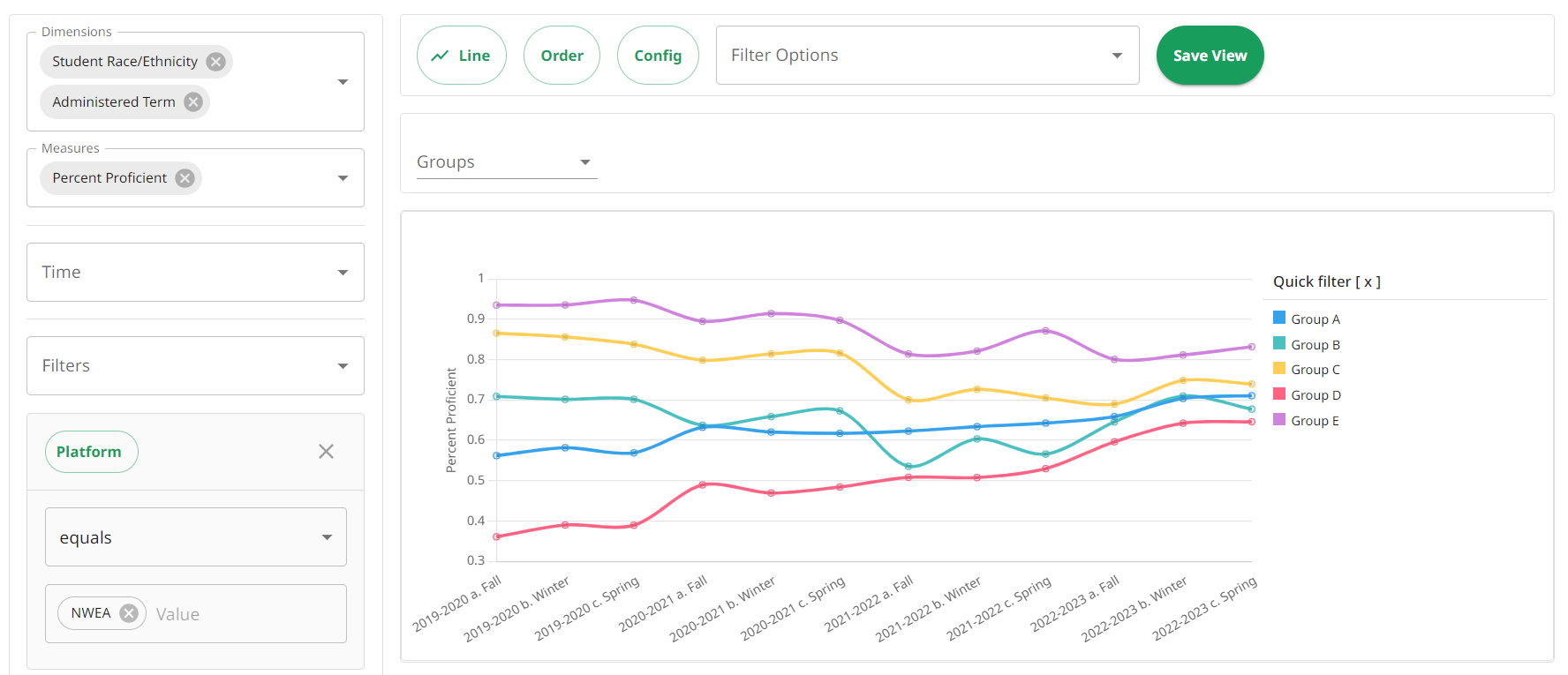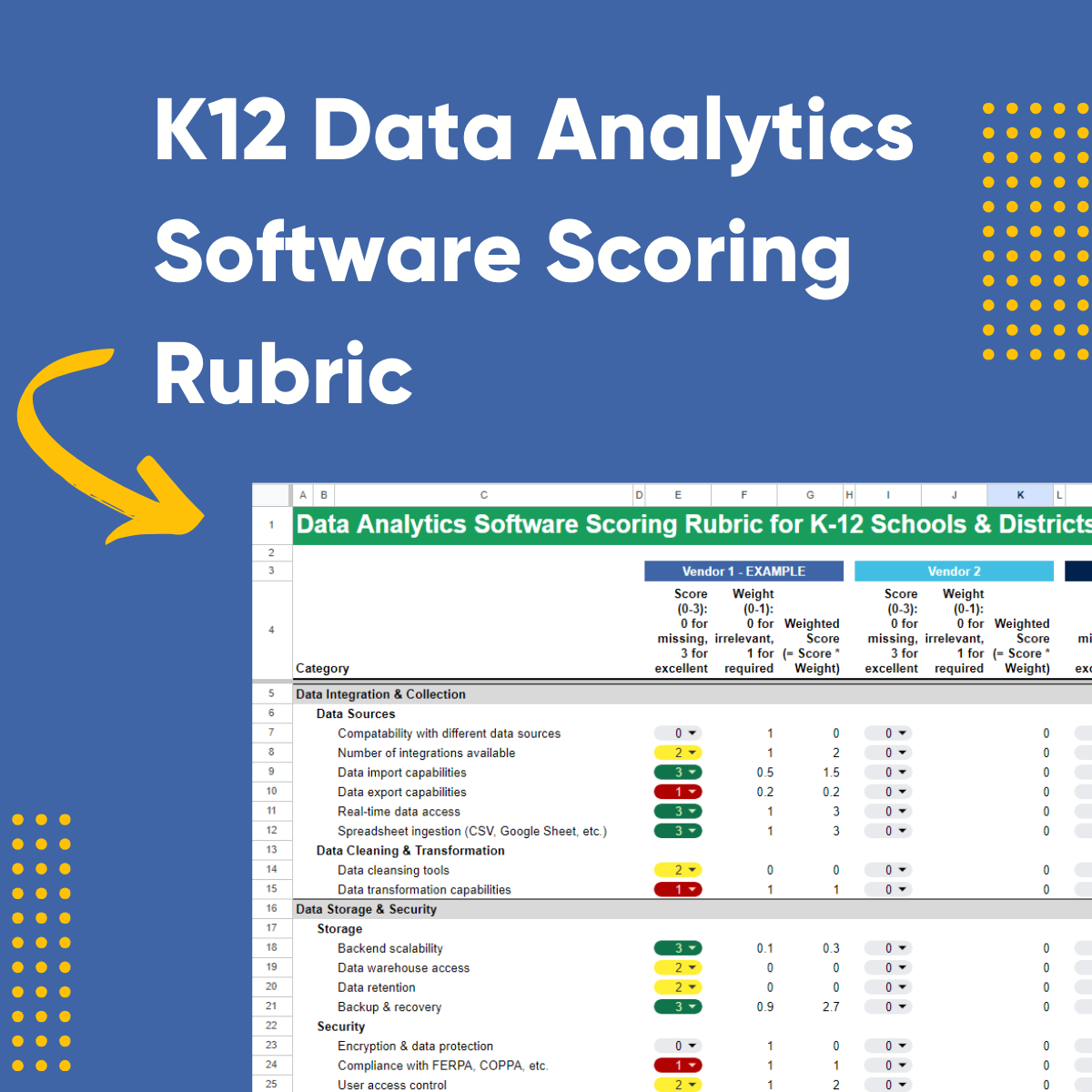 Tips for choosing a data partner
Every school and district has different needs, but we do have recommendations on how to run a thorough, unbiased process to choose a data analytics vendor.
To help you evaluate more deeply, we have created a rubric that you can use to give every vendor a score, based on what's important in your specific context.
Solon City Schools Case Study
Explore how Solon City Schools, seeking innovation and customization, chose Schoolytics as their new data partner.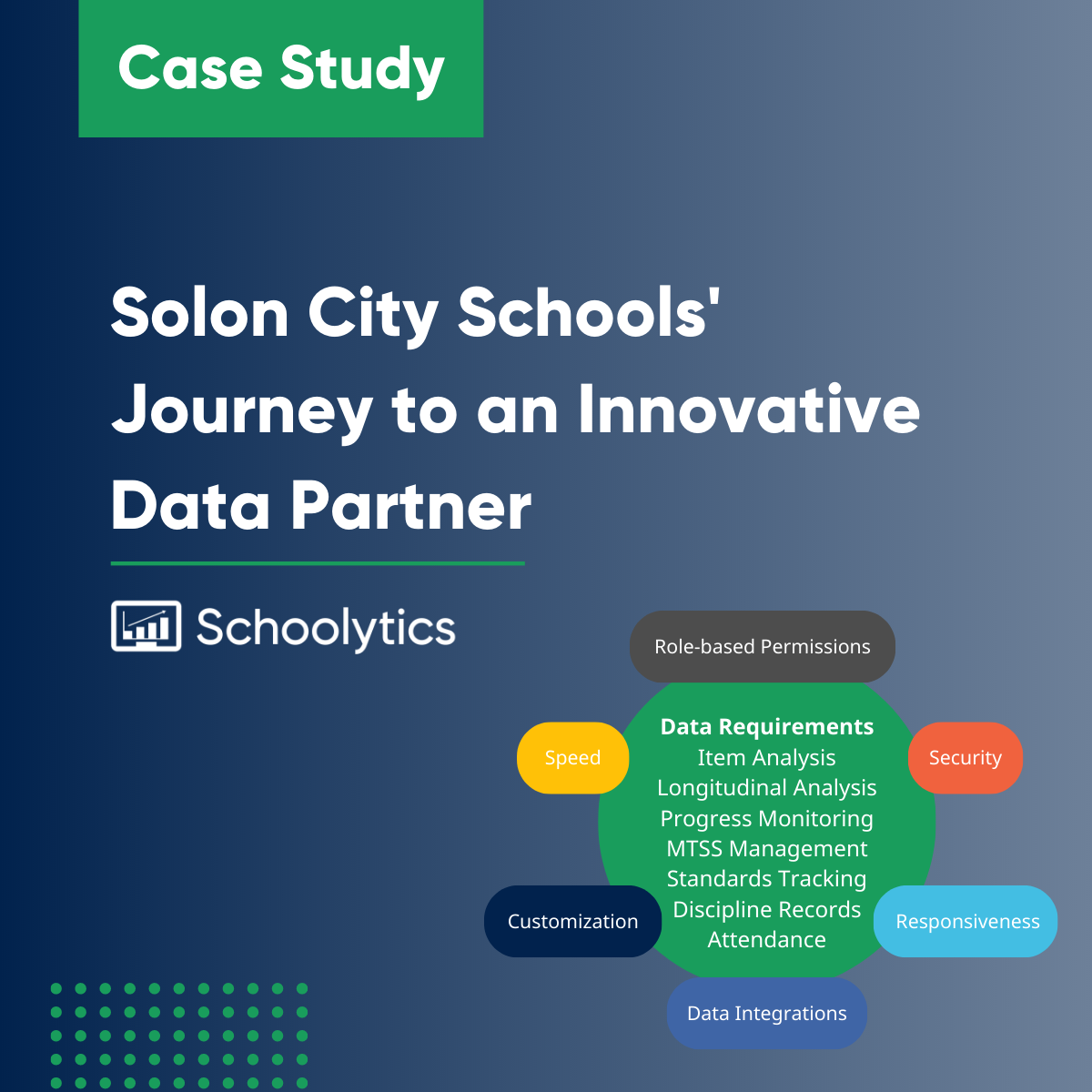 FAQs
What do users typically do with Schoolytics?
What kind of data can you connect to Schoolytics?
Can you input data directly into Schoolytics?

Certain types of data, such as attendance and assessment scores, should be entered as normal into the SIS and assessment platforms. Schoolytics does have a very flexible logging system that lets you document interventions, goals, milestones, notes, and more.

Are Schoolytics dashboards customizable?

Yes! One of Schoolytics' biggest value-adds is the ability to customize nearly everything you see on the platform. Every district has a unique set of dashboards with specific requirements, metrics, thresholds, etc.

Can you track student groups in Schoolytics? Can you make the groups yourself?

Yes! Group creation can be automatic, e.g., created from student tags from spreadsheets or the SIS, or manually created by the user. Users can filter reports and views by their group of interest.

Does Schoolytics sell to individual schools?

Because the systems that we pull data from are districtwide, Schoolytics contracts are only signed at the district/CMO level. We cannot sell to individual schools within a district. The exception is private/independent schools that operate like a "district".

Will Schoolytics build a new integration for my district? How long do new integrations take to build?

Yes! For high priority, frequently updated data, we will work with you to determine if a new integration is necessary. New integrations take about 4-6 weeks to implement, with SIS integrations taking closer to 6 weeks due to the volume of data.

How do teachers and administrators log onto Schoolytics?

School-based users log in with Google or Clever single sign-on. (Parents/guardians use Google SSO or magic links).

Can I get Schoolytics in other languages?

Schoolytics is available in the following languages:

English, Spanish, French, and Japanese.

Can students and parents use Schoolytics?

Does Schoolytics have free accounts?

Individual teachers using Google Classroom can sign up for a free account.
Would you like to meet our team?
Our team is committed to giving you a full picture of what our tools can do. Contact us with any questions you may have.