Get valuable insights on MTSS/RTI
With the right data system, MTSS/RTI becomes what we all want it to be: an impactful investment in supporting students in the ways that they need, when they need it. With Schoolytics, you can finally see which students are in which MTSS tiers, track which interventions are happening for which students, and connect those interventions to student outcomes. With this information, you can make better decisions for individual students and for your whole organization.
Schoolytics' end-to-end MTSS solution
Intervention tracking usually happens in spreadsheets that are difficult to maintain, share, and analyze. With Schoolytics, make your intervention data work for you and your team.
For MTSS, students must be identified and tagged in a system of record. Schoolytics can pull any tag data from your SIS, or even a spreadsheet.
Schoolytics helps you combine data from multiple sources (SIS, LMS, assessments) to find out if a student is meeting their intervention goals.
At a high level, administrators must determine if an intervention is worth investing in. Schoolytics dashboards will give you this information.
Schoolytics allows users to enter and log intervention data in a flexible way. Goals and plans for students can be added and shared across stakeholders.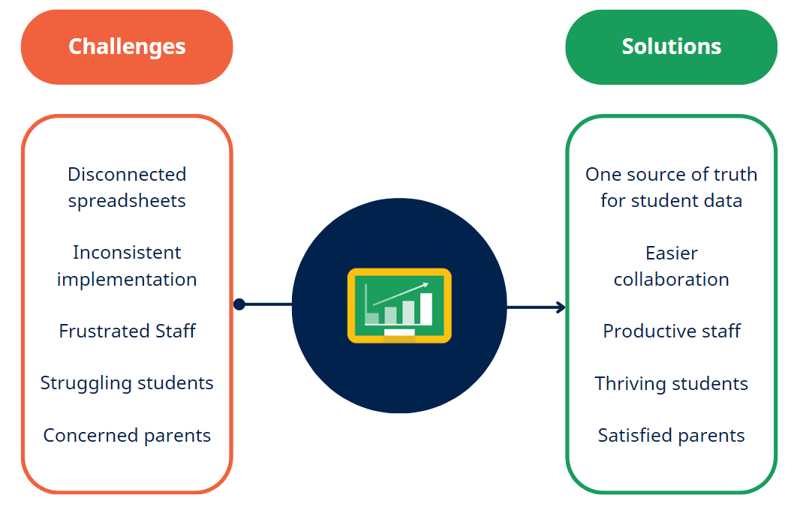 Get a collaborative tool that engages all of your stakeholders
MTSS intervention monitoring can feel be overwhelming without the right tool. With Schoolytics, you can transform how your staff approaches MTSS data through a lens of empowerment and action.
Why data specifically is the key to successful MTSS processes
Data is the foundation upon which effective MTSS implementation rests. Data analysis provides the necessary insights to build successful intervention strategy at an individual student level and across the entire system.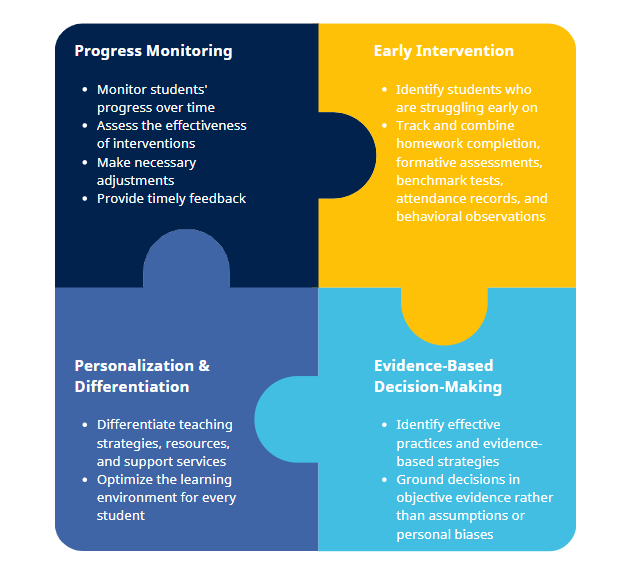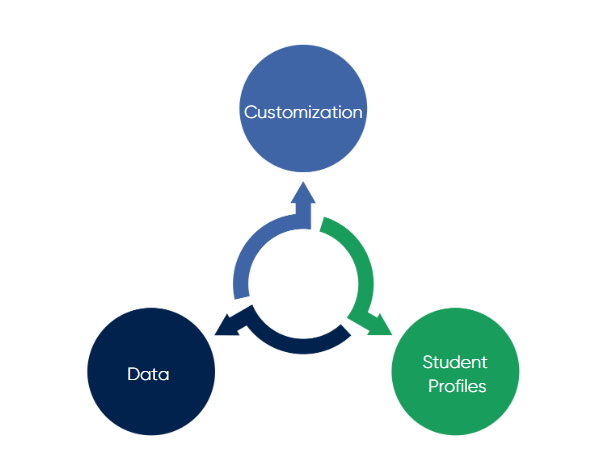 Schoolytics' unique value-adds in the MTSS space
MTSS is formed of a complex web of moving parts. Students, teachers, parents/guardians, intervention specialists, and the district Student Services team all have important roles to play in delivering services to students and the impact those services have.
Schoolytics offers three unique value-adds that form the heart of MTSS and serve as the foundation for your staff to executive a strong intervention strategy across your district or school site: data, customization, and student profiles.
Ready to take your MTSS to the next level?
Talk to our SPED and instructional expert, Dr. Anna Hartranft, who can show you what MTSS 2.0 could look like in your district.