Beyond "Data-Driven": The Importance of Student-Driven Learning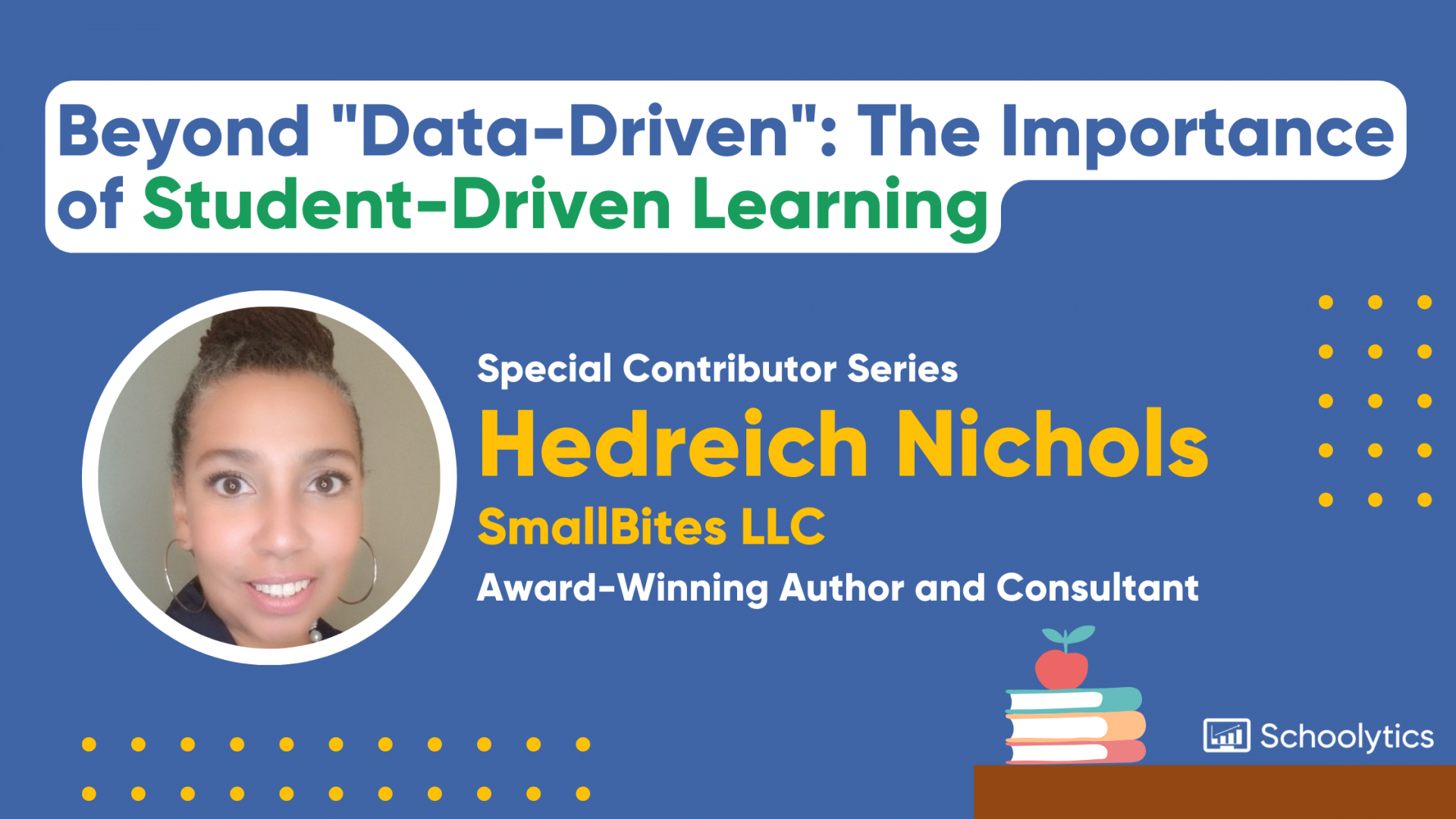 When administrators are deciding on the next 'which-way-is-up' academic initiative, "numbers don't lie" is a phrase commonly tossed about. The truth is, data alone rarely tell the full story when it comes to student performance.
For example, an inch is an inch. But exactly what does the 75th percentile quantify? Does it measure true academic strengths or does it tell us whether a student has learned a prescribed set of facts and skills? And how have we assigned value to those facts and skills? What do data sets actually say about the humans behind them?
Embrace Student-Driven Learning
When we center data-driven instruction, we focus on a system that values a unique set of skills and talents that have more to do with the value we place on western classical education than on true learning, knowledge, or talent.
Student-driven learning, by comparison, emphasizes the learner. How can we take the numbers we are given from human-made instruments that quantify academic achievement and use them to inform student-driven learning? What if we used engagement to gauge interest and talents and allowed student interest to drive learning? Would we have a "standard" measure for the average student? It would be a lot more complex. But since there is no average student, let's explore ways we can use data to inform student learning rather than drive instruction.
Use Data to Confirm What You Know About Your Students
When the first tests come back in the fall, use them alongside work samples and classroom assessments to identify the strengths and weaknesses of the data you are examining. No data should tell a teacher more about a student than classroom interactions can.
Do the numbers align with what you see daily in the classroom setting? Are the "academic weaknesses" from a lack of interest and engagement? Is there another way to teach the same content involving movement, music, debate, or other highly interactive methodologies? Can you teach geometry by building actual structures of wood, notecards, or graham crackers?
What about teaching history by allowing students to research lesser-known historical figures living at the same time as the ones we regularly learn about? And when teaching about voice, plot, and rising and falling action, does it matter what book students are reading?
Sometimes data shows a lack of learning but misses quantifying a lack of interest.
Use Data To Tweak Your Own Instruction
When students 'perform poorly' en masse, most teachers understand that a reteach is necessary. Using data as a jumping-off point can help you decide how to reteach content and how to reach students. While data charts on classroom walls alone are rarely sources of student motivation, collecting data directly from students can be.
Ask your students what they did and did not understand. Ask them how well they liked the content and how interested in it they were. Ask them how hard they tried to learn the concepts, letting them know there's no judgment and that we all try harder at some things than others.
If your students say it was boring, even if they say you were boring, consider this valuable data not to be taken personally.
Finally, ask them to co-create a lesson with you. Let students make up their own quizzes on Quizzizz, Kahoot, Google Forms, or on paper. Let them drive their own learning.
Use Data To Collaborate and Grow
When the data deep dives come, there are always a few teachers whose students do exceptionally well. Again, numbers don't always tell the whole story. One teacher may have been given all Q4 and Q5 students, while another may have a class in which students with learning challenges are highly represented.
However, assuming similar demographics, if the teacher down the hall has great data, what are they doing that you're not? Can a colleague watch your class while you do a learning walk? Can you spend 30 minutes comparing data, instructional blocks, and outcomes? And if one teacher does have a high concentration of Q4s and Q5s, can your classes work together in mixed-ability groups? Use the data to find new ways to collaborate in order to grow and help your students grow.
Use Data to Connect Students With Learning Beyond the Classroom
After you have aligned data with what you are seeing, explored and accounted for weaknesses in instruction and student interest, and worked together with others to learn, grow and strategize, there is one important thing to remember: no teacher can provide everything a student needs.
Does your school need to have a library card or book drive to ensure that students have more reading material at home to help with literacy skills? Do you and your colleagues need to put together multi-lingual resources with links to dual-language read-alouds or learning games in diverse languages? Do you need to invite a scientist or data expert from the community to come in and get kids excited about the content and what it could mean for their earning potential and "shoe game"?
Use data to inform the kinds of learning experiences you connect your kids to, not only in your class but also when they are not with you.
Data is one of many metrics that educators should examine daily and weekly. While keeping an eye on the numbers is important, centering student-driven learning as well as data-driven instruction will help your students get the outcomes that drive success.
Learn how Schoolytics can help teachers put data in the right context.
About the Author
Hedreich Nichols is an award-winning author, consultant, and EdTech nerd helping districts and organizations transform culture, practices, and outcomes through student-led learning, design thinking, and digital literacy. Her award-winning book, Finding Your Blind Spots (Solution Tree) helps educators, parents, and students create inclusive learning communities. Her workshops and keynotes for MASCD, CUE, VASCD, etc., and districts throughout the US and in Europe inspire educators to get off the stage so that students can ideate, collaborate and create their own experiential learning pathways.
Hedreich, who has additionally written 5 non-fiction books for grades 4-8 for Cherry Lake Publishing, also helps educators through coaching, courses, and a weekly podcast, #SmallBites. Hedreich received her M. Ed. from Texas A&M in Educational Technology, and currently serves her district in North Texas as PK-12 EdTech Curriculum and Instructional Specialist.