Our Impact
At Schoolytics, we believe in the power of data to transform education. With easy access to the right data at the right time, and professional development around using and interpreting data, educators know how and when to intervene to support student learning and success.
When teachers use Schoolytics, their students are more successful
Guided by our expertise in data analytics, we launched a rigorous research evaluation project to assess our impact in classrooms in 2020-2021. With Google Classroom data spanning the academic year, we can observe and measure student engagement before and after teachers start using Schoolytics.

After careful analysis, we find that using Schoolytics has a measurable and statistically significant positive effect on students' assignment completion rate. More specifically, compared to inactive teachers, teachers who actively used Schoolytics after signup had students with an assignment completion rate that was
5-10% higher.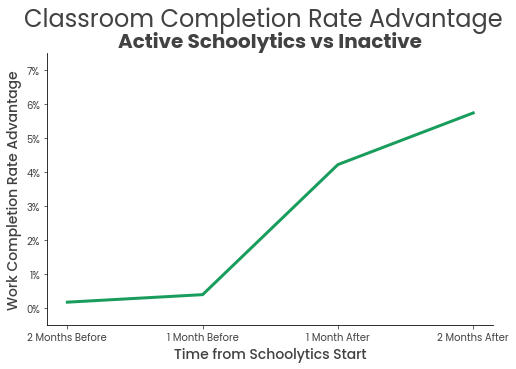 Would you like to learn more?
Contact us to find out how Schoolytics can support your students and teachers.