Let's build your Student Data Platform
Schoolytics connects with multiple platforms, combines that data, and serves it to administrators and teachers so that they can make the best, data-driven decisions possible for students. District office staff and school leaders can all find something they need on the Schoolytics platform, and superintendents can check on the execution of their strategic plans.
See the Administrator Demo
Learning Management System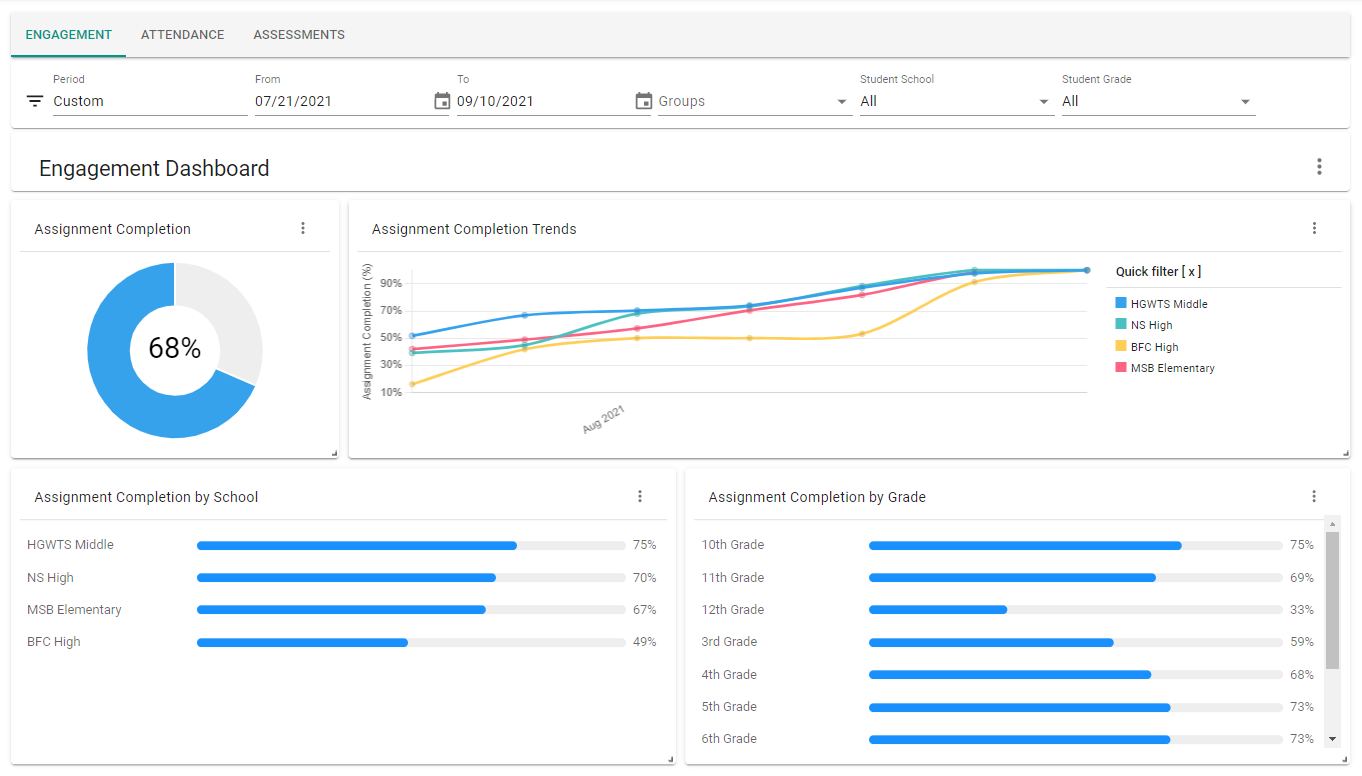 Get rich views of LMS data on student assignments, engagement, and learning progression across your district. Works with Google Classroom, Schoology, and (coming soon) Canvas.
Student Information System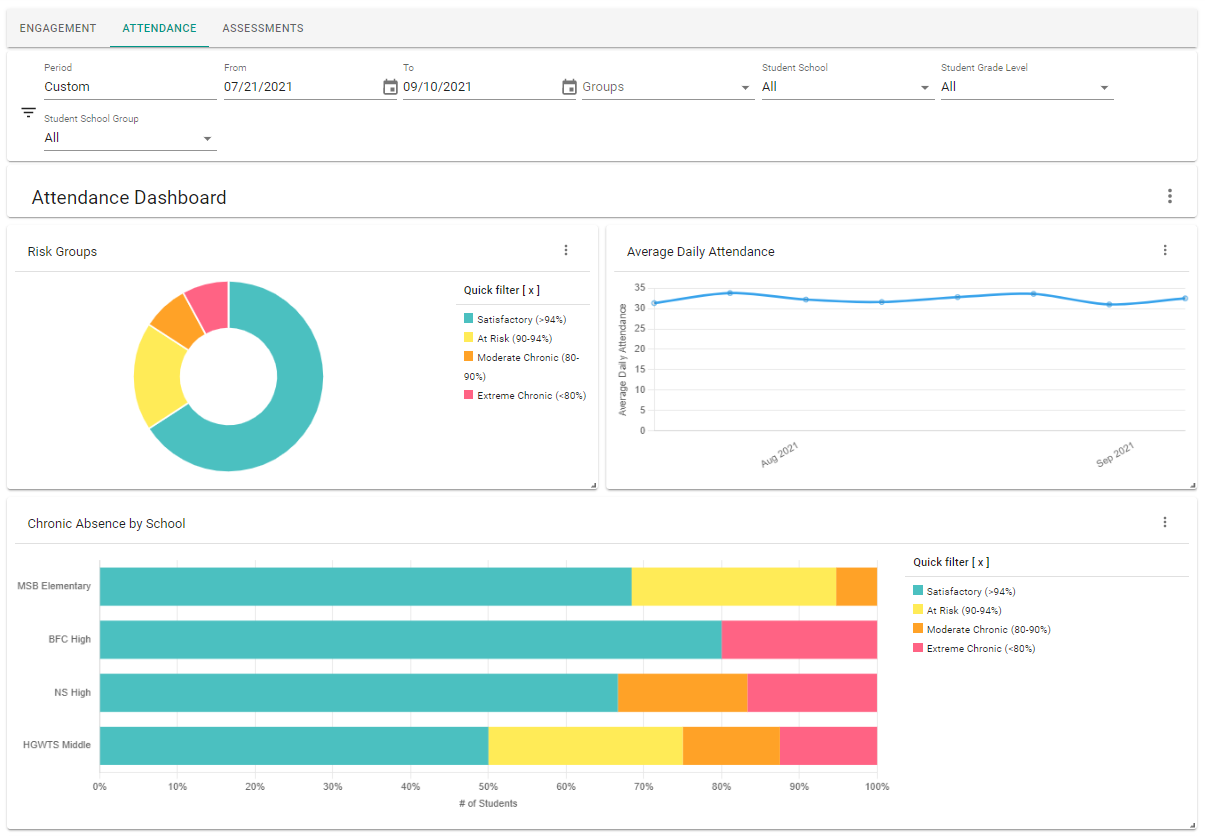 See attendance, grades and demographics data in a single view of student information. Works with PowerSchool, Infinite Campus, Blackbaud, Transparent Classroom, and (coming soon) Aeries.
Quizzes, Tests, and Assessments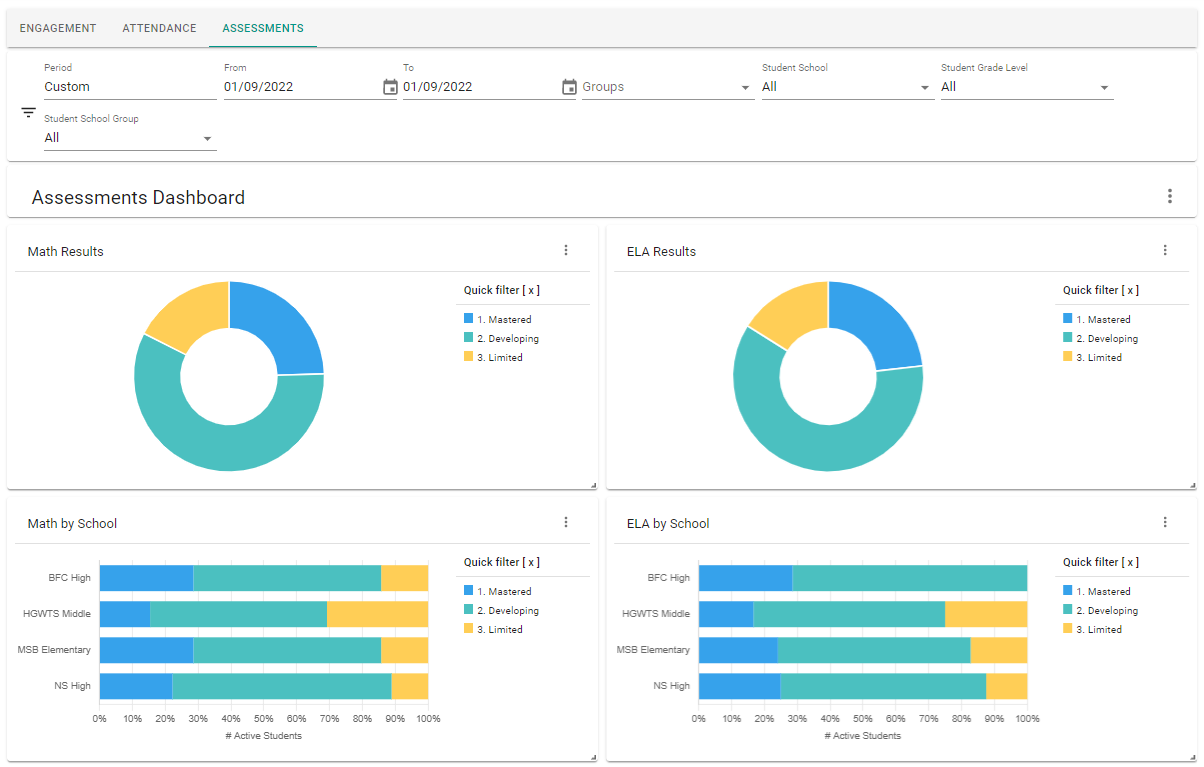 Connect student work with formative and summative assessment outcomes to connect the dots on student achievement. Works with Illuminate and NWEA MAP, and (coming soon) IXL.
Google Workspace and Drive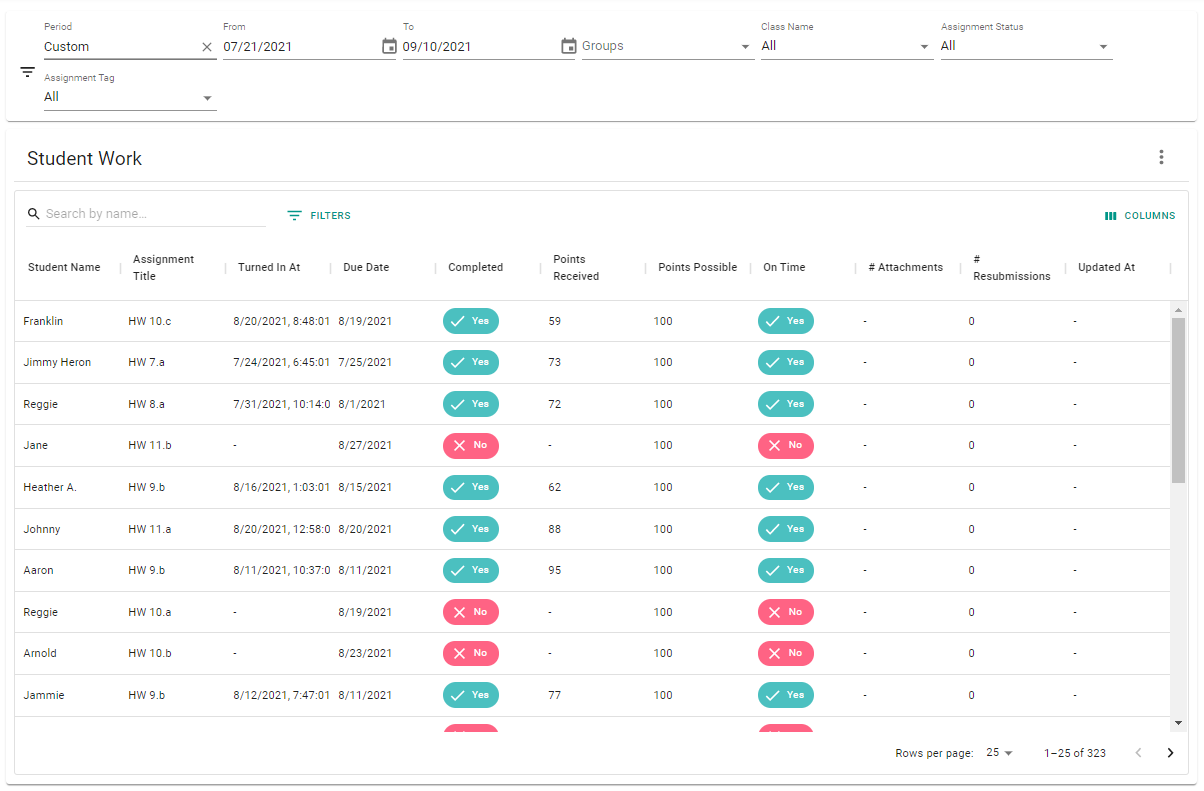 Access data on student work time and virtual learning attendance that you can't get from any other platform. Works with Google Drive and Google Meet.
Unify your data
Highly scalable, flexible connectors to unify data from Learning Management Systems, Student Information Systems, Assessment providers, and more.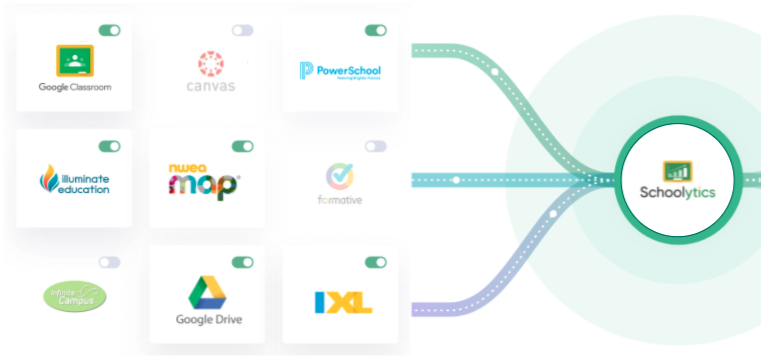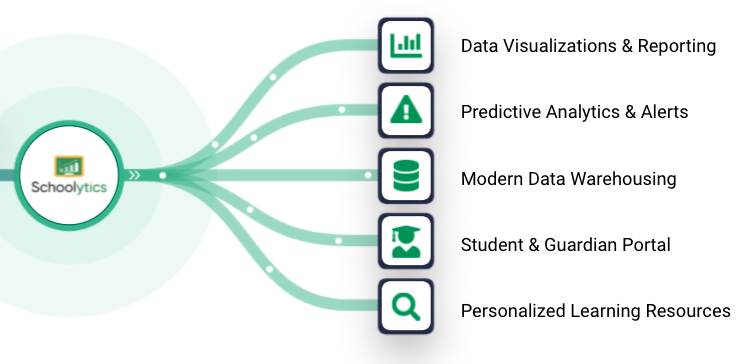 Activate your data
Go beyond just data dashboards to activate your data, transforming information into action.
Get Started
More than dashboards
Operationalize your data to support in classroom efforts.
Monitoring and Alerts
Operationalize your data by delivering pertinent, timely information to the right stakeholder at the right time.
Teacher and Student Notifications
Our platform can intelligently inform teachers of risks and patterns in their classroom, or notify students of upcoming or incompleted work.
Student and Parent Portal
Living progress reports of student work and assessment scores to help improve communication and transparency with students and parents.
Dashboards
Don't worry, we still love a good dashboard. Schoolytics offers out-of-the-box as well as customizable, interactive reports to explore data.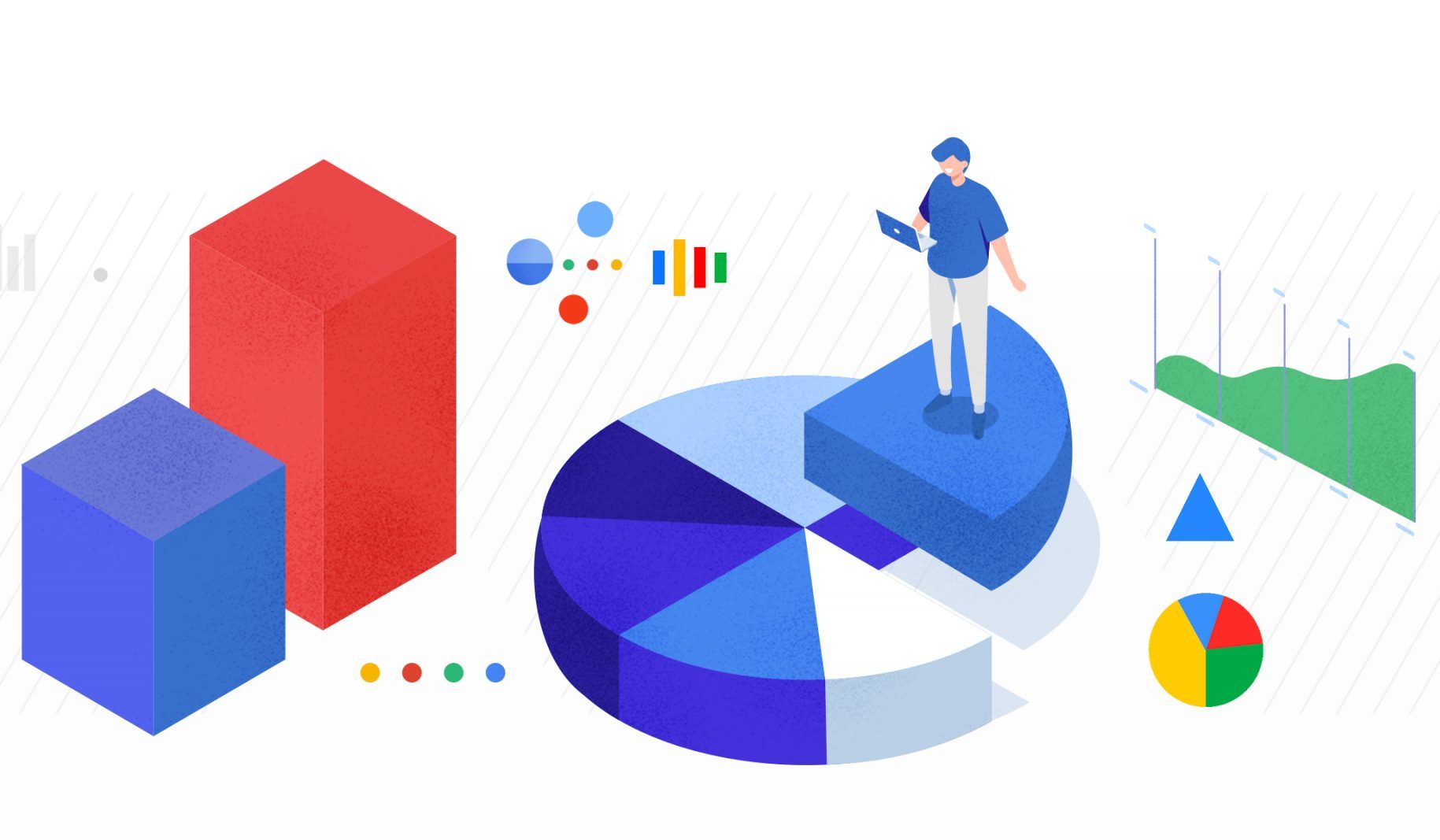 What is a student data platform?
A Student Data Platform (SDP) is designed to connect data from multiple systems, such as the SIS, LMS, and assessments, while providing a set of tools to activate that data, including reporting, monitoring systems, notification systems, and more accessible data to serve more stakeholders.
Data Warehouse
Aggregate SIS, LMS, assessment, learning data, and more into your data warehouse, creating a unified source of information. We leverage modern data services like BigQuery to manage your data.
Reports & Visualizations
Leverage rich, built-in visualization libraries to share actionable information across your organization with automated reporting mechanisms. Don't pay for expensive visualization tools.
Intelligent Automation
Deploy automated alerts and early warnings to notify teachers and principals of learning risk in their classrooms, or to students and parents to help them stay on track with their course work.
Multiple Stakeholder Design
Enable a wider audience to tap into data, allowing effortless access to information for everyone including superintendents, intervention specialists, teachers, parents, and students.
24-Hour Onboarding
Activate Schoolytics with just a few clicks by authorizing API keys.
30-Day FREE Trial
Use the platform free of charge for 14 days to evaluate and ensure Schoolytics will solve your data needs.
Take Action
Access rich learning and development metrics in the classroom and across the organization to get fast, actionable information.