Elevate your skills and credentials with Schoolytics Certification
If you're passionate about helping your student succeed, we want to hear from you! Our certification programs are a way to recognize educators who are going above and beyond to learn new tech tools and think creatively about supporting their students based on data. Schoolytics Certified Educators and Trainers are passionate about data and familiar with how Schoolytics can support teachers to measure, monitor, and manage student engagement.
Schoolytics Certified Educators
Schoolytics Certified Educators complete an application and take a quiz to demonstrate their knowledge of the core features and benefits of Schoolytics Teacher Accounts.
Schoolytics Certified Trainers
Schoolytics Certified Trainers go a step further in demonstrating their expertise with Schoolytics and are comfortable training others on how to use Schoolytics. Schoolytics Certified Trainers are eligible to receive support from Schoolytics to share their expertise about how to use Schoolytics effectively in schools.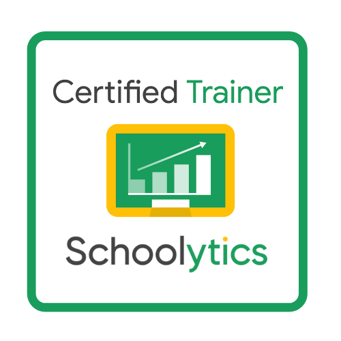 Schoolytics Certified Trainers are educators who believe in the power of data to improve instructional practices. They are knowledgeable about using Schoolytics within a classroom context and have access to exclusive materials to help them share Schoolytics with other educators.
What are the steps to becoming certified?
Submit an interest form.
If accepted, complete a Schoolytics Certified Trainer application and orientation.
Receive certification from Schoolytics.
What are the benefits of becoming certified?
School and teacher leadership on data and technology
Connect with other educators
Advanced notice of new features
Direct access to the Schoolytics team to provide feedback or get support
Present at conferences and events
What will I receive as a Schoolytics Certified Trainer?
Schoolytics Trainer Packs
Certified Trainer Badge
Invitations to Trainer Events
Who can become a Schoolytics Certified Trainer?
All educators who are passionate about data and student learning are encouraged to apply. Successful completion of the Schoolytics Certified Educator Quiz is required. At least 1 year of experience with Google Workspace is recommended.
How else can educators become involved in the Schoolytics community?
Connect with us on Social! We're @Schoolytics on Twitter, Facebook, Instagram, and LinkedIn.
Share your feedback and suggestions with our team. Email: support@schoolytics.com.