How can I use Schoolytics?
Schoolytics complements your Google Classroom workflow by offering on-demand, real-time student activity reports that save you time, foster student engagement, and support your communication with students, families, and colleagues. Our smart visualizations, interactive data tables, and auto-notifications allow you to individualize student support based on how each student engages with and progresses through academic content every day.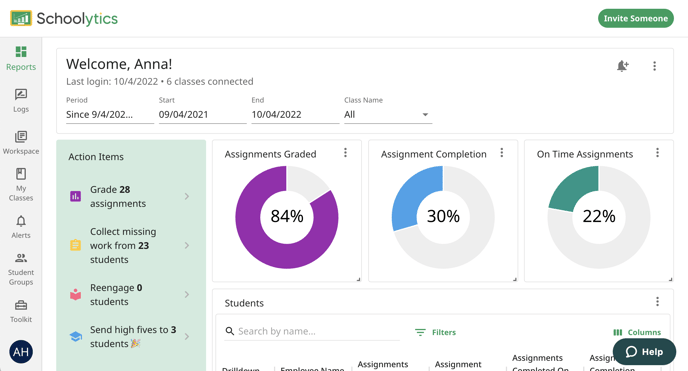 Here are some of the most popular features:
Monitor and share student progress
View reports, tables, & graphs.

Drill down for more details.

See all your student statistics in one view.

View and export reports on student activity and missing assignments.

Apply filters to see only selected information, like courses or topics.
Identify struggling students early and individualize support
Leverage pre-built reports to identify struggling students early.

Support students to complete missing work with pre-built reminders.
Find, review and reuse assignments
Search, review, and post assignments directly to Google Classroom.

Find trusted resources and collaborate within school groups.

Access resources uploaded from across your district.
Automate reports to your inbox
Leverage pre-built reports to identify struggling students early, and support students to turn in work on time.
Ready to get started? Create a free teacher account today.
Contact us to set up a Schoolytics Organizational Account