A Guide to Reusing Assignments in Google Classroom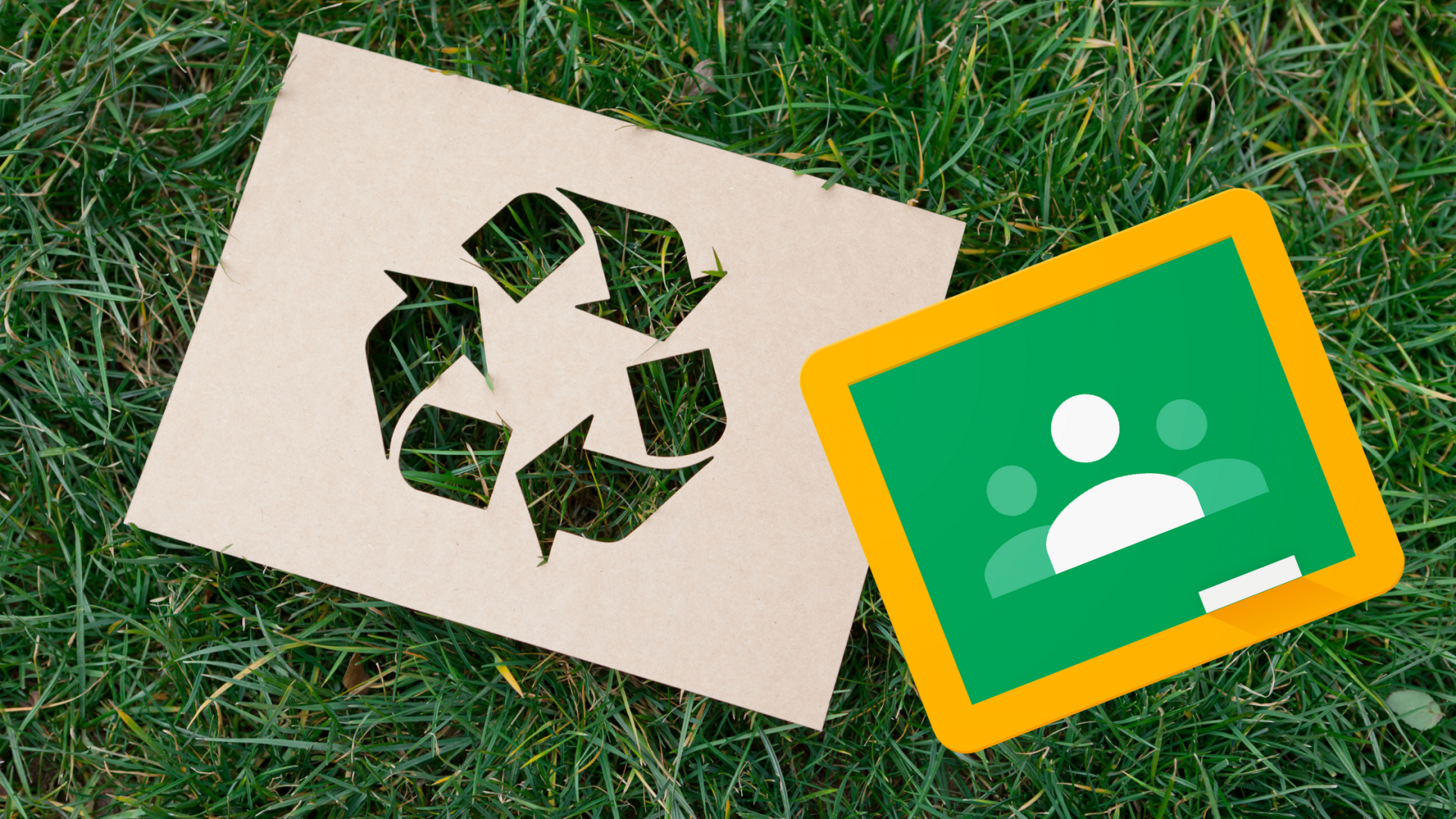 "Didn't I do this last year?" No one likes to recreate the wheel, so reusing assignments from last year is a must, and Google Classroom provides a few ways to do this. But what is better than reusing your own assignments? Using an assignment from a colleague!!
Schoolytics allows you to share assignments, even further reducing your workload. Here's how!
Beware of Copying Classes
Caution - Copying Classes Copies EVERYTHING Including Attachments​​
One option for reusing assignments from the previous year is to copy the entire class. ALL of the assignments. This can easily be accomplished by going to classroom.google.com and, on the class tile, using the 3 dots to select "Copy."
Warning! Copying a Class from Google Classroom makes copies e.v.e.r.y.t.h.i.n.g.
Be warned though: this will copy ALL of your attachments including videos, screenshots, collaborative student work... everything.
Please remember that all of your files are in Google Drive already and do NOT need to be copied. This will result in a duplication of files. This can create confusion in your Google Drive.
Copying Archived Classes
I, Alice Keeler, create a new Google Classroom class each unit. I then archive the previous unit. That prevents students from submitting work from a unit we are no longer in. Creating a class per unit also makes it easier for me to reuse assignments the next year.
To archive a class in Google Classroom, use the 3 dots menu on the class tile to choose "Archive." You can find your archived classes by going to the 3 lines menu in the upper left and selecting "Archived classes" from the drop down menu. From the list of archived classes, use the 3 dots on the class tile to choose "Copy." Again, this copies all of the attachments.
You can also make a copy of your archived classes. But once again, this clones everything in the archived class.
Copying Classes Saves Assignments as Drafts
One of the advantages of reusing assignments is the opportunity to make improvements to the assignment. When you copy an entire class, the categories are copied and the assignments are added as a draft. This allows you to make adjustments to the assignment, change the due dates, and schedule to multiple classes before making the class live.
A Tip for Teaching Multiple Sections
If you are teaching multiple sections of the same class (for example, 2 sections of Algebra) do NOT copy the class multiple times.
Instead, create a blank class for the additional sections. When assigning from one section choose to assign or schedule to the other sections. This will keep you from having to do multiple edits. This will also save you from having even more copies of the exact same document in your Google Drive.
If you copy the same class multiple times, each of the documents is copied and shows up in your Google Drive each time.
When one class is copied all of the assignments are copied as a draft. Edit the assignment and select multiple class sections to push the assignment to.
Or, Use the "Reuse Post" Feature
Instead of copying the entire class, Google Classroom lets you reuse each assignment one at a time. In Google Classroom, on the Classwork page select "Create." From the drop down select "Reuse post." From there you can select last years class or archived class. Scroll through the list of assignments and select the one you wish to reuse.
Important: When you want to reuse a post, remember to UNcheck the option to copy all attachments to keep your Google Drive tidy.
One advantage to reusing assignments one at a time rather than copying an entire class is the ability to NOT clutter up your Google Drive with copies of the attachments. With the rare exception, you do NOT need copies of your attachments.
If you are teaching multiple sections of the same class you can reuse post one time and assign to multiple sections at once.
Use Schoolytics to Reuse Assignments
Instead of reusing assignments directly from Google Classroom, you can use your free Schoolytics account to copy, share, and assign your previous Google Classroom assignments across your classss this year.
Check out the Schoolytics Workspace
In the side rail of Schoolytics, choose "Workspace" to find your current and past Google Classroom assignments across all your Google Classroom classes.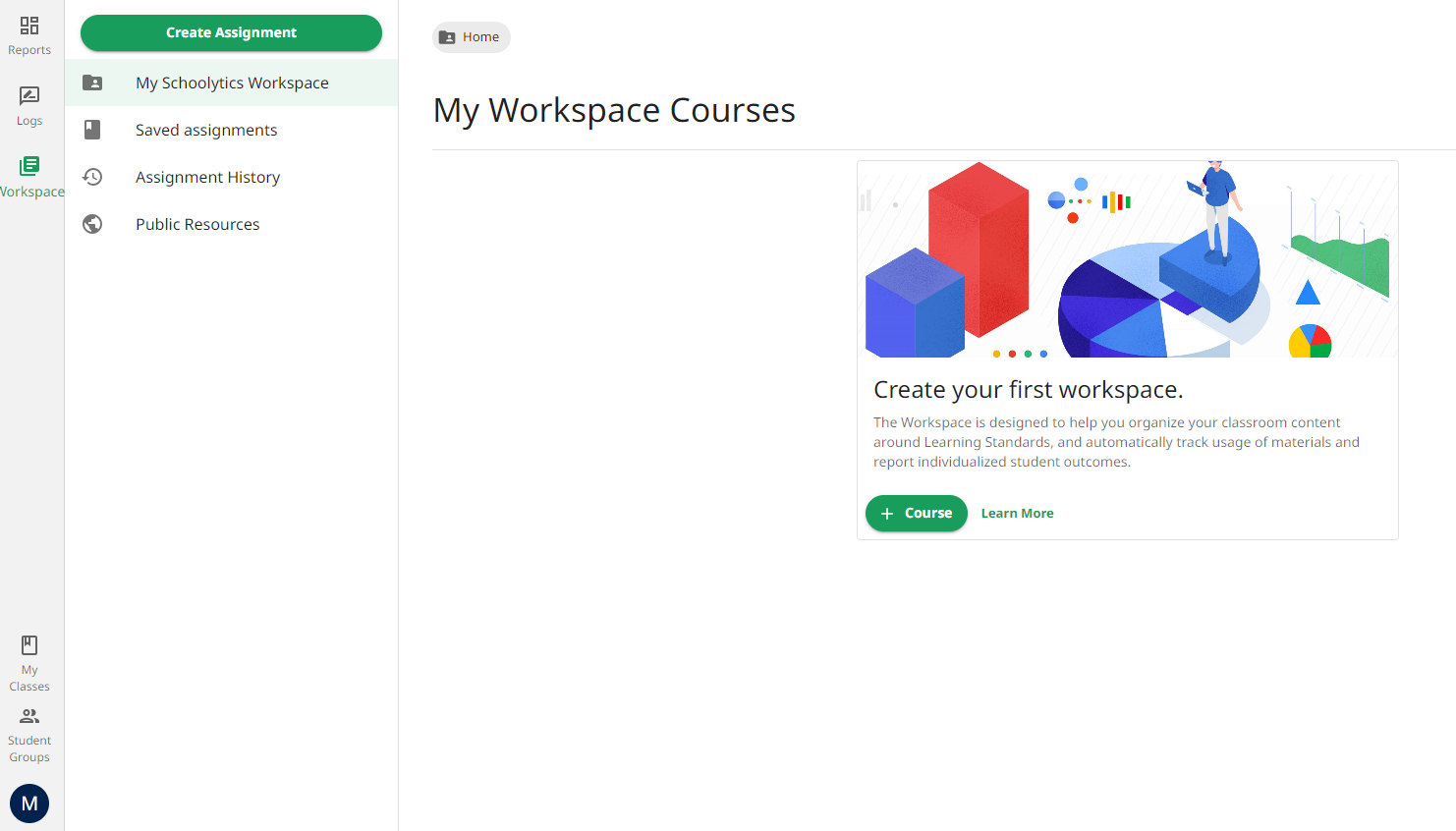 Assignment History
The Assignment History is a list of assignments from active classes, classes you are a co-teacher in, and archived classes!
Bonus: These Assignments are Easily Searchable
A big advantage of using Schoolytics to reuse assignments is the ability to SEARCH. This can save you tons of time.
Use the search box at the top of the Workspace to find assignments using keywords in the title or instructions—like "algebra" or "desmos"—instead of having to scroll through all of the assignments each time. Then, click on the "Classroom" button to share to your classes.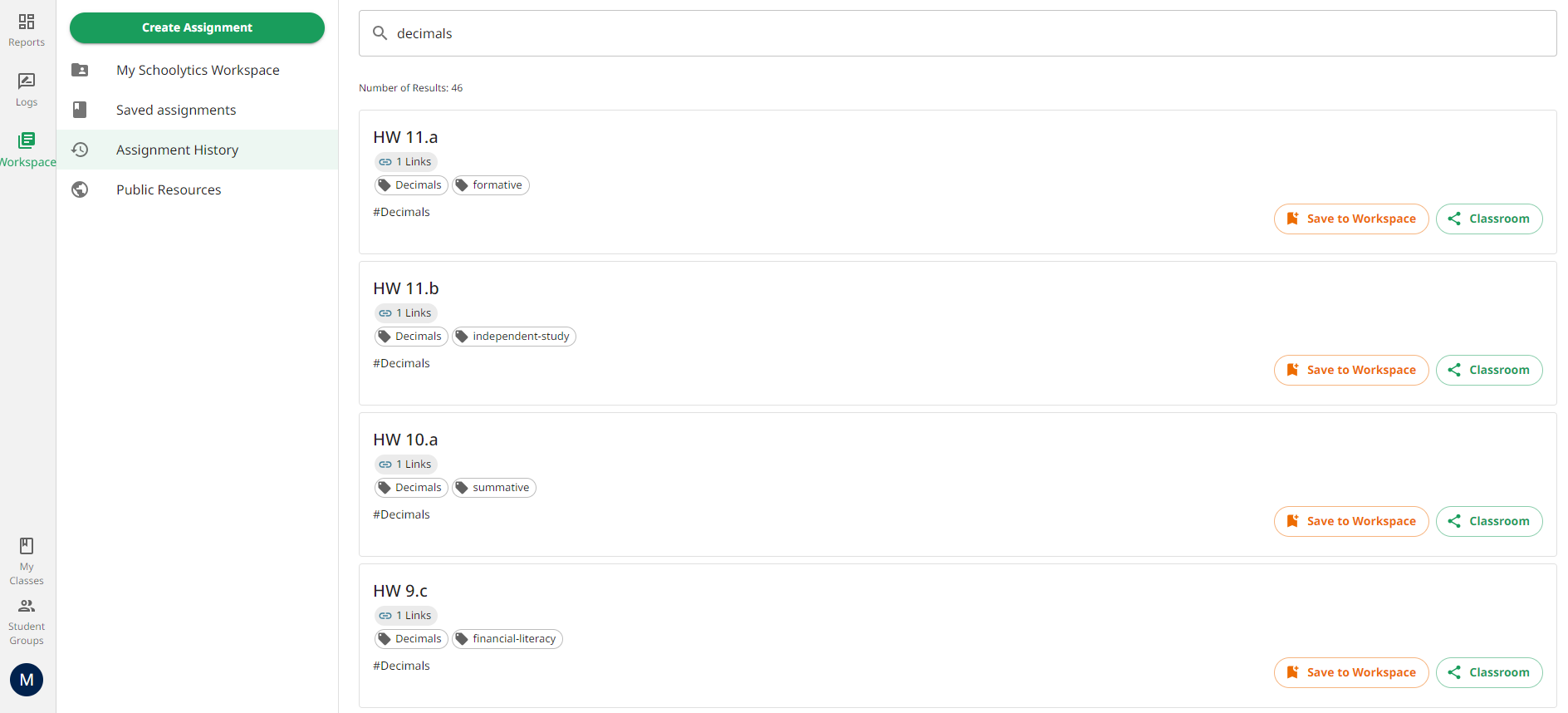 Sharing Assignments Amongst Teachers
Something Google Classroom does NOT allow you to do is share a Google Classroom assignment with another teacher. Even other teachers at your school can't receive a copy of your excellent assignments!
With Schoolytics this is easy. You can share any of your assignments directly with another teacher so they can import the assignment into their Google Classroom and assign it to their student. The teacher does not even have to be at your school!
Sharing with Teachers Using My Schoolytics Workspace
From My Workspace Courses, choose to add a course using the "+ Course" button. This is essentially creating a shared folder. Any assignments added to this Workspace Course (folder) will automatically be accessible to those who are shared on the Workspace. You can add and remove teachers to share with using the "Manage Sharing" button.
Adding a Course basically creates a shared folder for Google Classroom assignments. You can decide who has access to these shared Google Classroom assignments using the Manage Sharing buttons.
When creating or reusing an assignment from Schoolytics choose to "Save to Workspace." This is an easy way to collaborate with other teachers—even if the teacher is at a different school! No need to be co-teachers in each other's classes to get access to their exemplar assignments.
Saving assignments to a Workspace Course does not push the assignment to Google Classroom automatically. Instead, it allows you to organize and share your Google Classroom assignments with other teachers—inside and outside of your school—so you can control which assignments are posted for students and when.
Reusing Assignments is a Snap with Schoolytics
Reusing assignments lets me save time each year. it also helps me reflect on my teaching and make improvements so I never stop growing. Google Classroom makes it easy to reuse assignments by copying classes and posts but that can create a huge mess if you're not careful.
Use Schoolytics to create copies of your previous assignments so you can edit and post to your students this year. Plus, Schoolytics Workspace lets you collaborate with other teachers within and beyond your school. This saves time for teachers on the sharing and the receiving end, and is perfect for new teachers that need a leg up from experienced mentor teachers.
About the Author
Alice Keeler is a teacher, Google Certified Innovator, and the co-author of the book "Stepping Up to Google Classroom" and others. Learn more about Alice and see more of her time saving tips at alicekeeler.com